Mayor David J. Heintzelman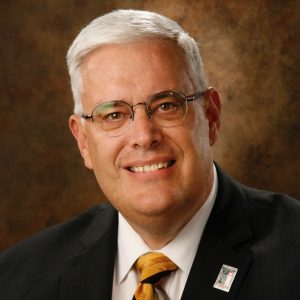 Email:  D.Heintzelman@hellertownborough.org 
The Mayor is the chief law enforcement officer of the Borough.  Although the Mayor does not generally vote on legislative matters, he can vote in the event of a tie, veto an ordinance passed by Council, attend and participate in all meetings of Council and report to Council on the state of the Borough.
A Biography of the Mayor
David J. Heintzelman, elected Mayor of the Borough of Hellertown in 2018, is married to Nancy Louise (Shay) Heintzelman, married since August 29, 1981; four daughters: Sara Christine Heintzelman, Laura Elizabeth Slayman married to Bryan, Abby Eileen Tate married to Samuel Tate, Emily Kate Morello, married to Chris.
David earned an Associate in Applied Science Degree from the Northampton County Area Community College, Bethlehem in 1981.  He is President and Supervisor of the Heintzelman Funeral Home, Inc., Hellertown, President of the Lehigh Valley Crematory Services, Inc., Hellertown, since January 2004 and co-owner of the Forever Remembered Hearse Company, Hellertown, since August 2005. David was         Deputy Coroner for the County of Northampton, 1986-2006.
David has received numerous awards for his commitment to this community:    2017 Greater Lehigh Chamber of Commerce Community Partner Award, 2017 Lifetime Achievement Award – Eastern PA Funeral Director's Association, 2017 recipients of the Who's Who in Business Lehigh Valley and Best of the Valley – Lehigh Valley Magazine, recipient of the Distinguished Service Award on January 26, 2002 from the Hellertown-Lower Saucon Chamber of Commerce,  recipient of the PSEA (Pennsylvania State Education Association) Saucon Valley Education Assn. Friend of Education, Award for support of excellent communications between our schools and community on 4/26/2001.  He was the first elected President of the Funeral Service Education Association- 1980-1981 (NCACC, Bethlehem).
David's memberships include but not limited to:  First United Church of Christ, Hellertown where he served on its Consistory and is Past Vice President; Hellertown Lions Club (3 times) and a recipient of the Melvin Jones Fellowship Award, presented on June 10th, 2010; Harley Owners Group (HOG); American Legion Riders 397, Hellertown;  member and 2 times President (2nd time in 2014) of the Eastern Pennsylvania Funeral Directors Association; member of the National Funeral Directors Association; Member of New Temple Lodge #720 F. A.M of Allentown;     Charter Board Member of the Saucon Valley Fine Arts Corporation, Hellertown in 1999, & Vice President – 2001-2002; Greater Lehigh Valley Camber of Commerce;  Executive Chairman of the 250th Anniversary Celebration of Hellertown; Chairman of the Saucon Valley Spirit Parade for the past 24 years; served on the Saucon Valley School District Accreditation for Growth (AFG) – 2001; President of the Saucon Valley Music Connection from June 2003-June of 2006; 2015, January 2015, awarded the Community Commitment Award by the Hellertown Lower Saucon Chamber of Commerce; Executive Chairman of the Dewey Ambulance Building Fund, Hellertown  served on various other Committees and Boards in the Saucon Valley Area; Dewey Fire Company; Honorary member of the Edward H. Ackerman Post 397; Life Member of the Hellertown Historical Society; Life Member of the Saucon Valley Veterans' Memorial Committee.
David's passion is helping others and in his free time enjoys an occasional ride on his Harley.