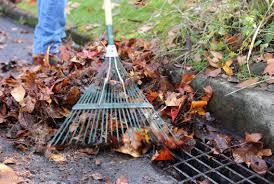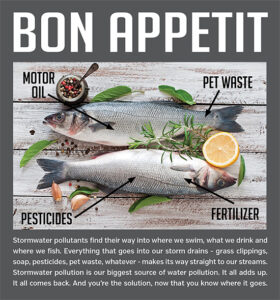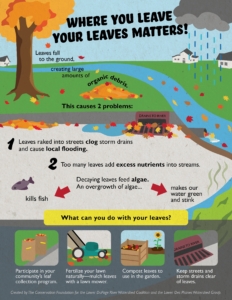 An electronic copy of the Borough of Hellertown's Pollution Reduction Plan report and presentation were uploaded to the Borough's website for public download and review. Hard copies of the report are available for public review at Borough Hall. The public is given 30 days to provide commentary on the report's contents. The public is able to submit comments directly to the Borough in writing, or by email to the Borough office.
The submission of this Pollution Reduction Plan (PRP) is in accordance with the requirements as defined in the Individual Permit PAI-13 Authorization to Discharge Under the National Pollutant Discharge Elimination System (NPDES). This individual permit, issued by the PA Department of Environmental Protection (DEP), grants municipalities the authority to discharge its stormwater into Waters of the Commonwealth under a Stormwater Discharges from Small Municipal Storm Sewer Systems (MS4) permit.
Hellertown Borough covers four (4) watersheds: Saucon Creek, Silver Creek, Polk Valley Run, and the Lehigh River. DEP has listed the Creeks as being impaired due to sediment, and the Lehigh River impaired due to sediment, organic enrichment and low oxygen (See Appendix A). In accordance with Hellertown Borough's MS4 permit, this PRP has been developed to address water quality initiatives within these drainage areas of impaired streams.
20220801_PRP_report_updated_Reduced
The Clean Water Act is the federal legislation that governs stormwater management.  Stormwater point discharges to waters of the U.S. are regulated suing National Pollutant Discharge Elimination System (NPDES) permits.  In 1999, federal regulations extended coverage of the NPDES program to local separate storm sewer systems (MS4's) serving populations less than 100,000.  Hellertown Borough is required to comply with the NPDES program as an MS4.  Under the PNPDES stormwater program, permittees must develop a stormwater management plan that provides the details of how the community (Hellertown Borough) will comply with the requirements of the permit.  Permits are based on a framework of six minimum control measures:
– Public education and outreach
– Public participation and involvement
– Illicit discharge detection and elimination
– Construction site runoff control
– Post-construction storm water management in new development and redevelopment
– Pollution prevention and good housekeeping for municipal operations and maintenance
More information on this program is available from the DEP Website here.
http://stormwaterpa.org/
We turn the faucet and it's always there. Clean, safe, and abundant. Water, the essence of life. We use it every day, but we rarely think about the fact that it's been through a complex journey and many changes before it gets to our home.
Pennsylvania's source water comes from surface water like our rivers, lakes and streams or from groundwater, the aquifers that lie beneath the earth. Water suppliers tap into these sources and treat the water before delivering it to us, ready to drink. This source water is affected by what happens on the land around it, and although we don't mean to, our daily activities often end up polluting our most essential resource.
Polluted runoff is the number one cause of water quality problems today…
The video was made possible thanks to support from the William Penn Foundation, the Water Resources Education Network (WREN), and other partners and supporters of StormwaterPA. For an alternate version focused on Pennsylvania's Source Water Proection Program, visit WREN's informative site SourceWaterPA.org
Hellertown Borough Municipal
Separate Storm Sewer Systems (MS4)
The goals of all MS4 programs and Hellertown Borough are to reduce the discharge of pollutants from the borough to protect water quality and to satisfy requirements of the Clean Water Act.  Hellertown Borough would like you to remember that the water and any items that go to into a storm sewer go directly into streams.  This water is not cleaned in any way and does not got the waste water treatment plan.  Hellertown Borough needs all of its residents to assist us in keeping our storm water and storm water sewer system clean by doing the following:
– Dispose of water properly
– Clean up after your pets
– Use fertilizers properly and efficiently to prevent excess runoff
– Store materials that could pollute storm water indoors
– Monitor storm water inlets near your property.  No one should dump anything into the storm sewer system.  If you see someone dumping, please call the Borough at 610-838-7041.
Storm Drain Stenciling
Hellertown Borough has been marking all of the storm drains in the Borough with the "No Dumping/Drains to Stream" stencils.  Hellertown Borough with the assistance of many volunteers has marked most of the storm drain in the Borough.  These storm drain stencils educate the public that anything you dump into the storm drain ends up directly in a creek or other public water way.  If you would like to volunteer and help with storm drain stenciling, check your neighborhood for missing stencils and then call Tom Henshaw, Director of Public Works or e-mail at t.henshaw@hellertownborough.org .  Let him know the number of stencils you need and he will drop them off.
You Can Help By Watching for
– Sediment leaving a construction site into a storm sewer
– Spills (chemical, gas, oil)
– Illegal dumping activity into streams or storm sewers (please call 911 first)
– Dry weather flows from outfall pipes into streams (72 hours after a rain storm)
Residents may be the first to recognize "illicit" discharges dumping into storm sewers or coming out of storm sewer outfalls.  If you see an "illicit" discharge please report that to the borough by one of the following methods:
– Call the borough office at 610-838-7041
– Send an e-mail through our web site general mailbox at webmaster@hellertownborough.org     
To learn about water quality and simple ways to protect our water log onto EPA's Toolbox http://www.epa.gov/gateway/learn/water.htmlor DEP's Toolbox
Watersheds in Hellertown Borough
– Saucon Creek Watershed – The Saucon Creek watershed is located in southern Lehigh and Northampton Counties and crosses over into a small portion of northernmost Bucks County.  The watershed encompasses all or part of ten municipalities.  The municipalities are, in Lehigh County, Upper and Lower Milford, Upper Saucon and Salisbury Townships and Coopersburg Borough.  In Northampton County the municipalities are Williams and Lower Saucon Townships, the Borough of Hellertown, and a portion of the City of Bethlehem.  The Saucon Creek watershed is approximately 58 square miles.
– Tributaries – The Saucon Creek watershed has approximately 85 miles of mapped streams, consisting of the main stem Saucon Creek (17 miles), six named tributaries (24 miles):  Polk Valley Run, Black River, Silver Creek, Tumble Brook, East Branch, and the South Branch, and about 45 miles of unnamed tributaries.  For more information on the Saucon Creek Watershed, click herehttp://sauconcreekwatershed.org/  or the Northampton County Conservation District http://www.northamptoncd.org/
What You Can Do
The following links will help you as a property owner with educational material to help with storm water management:
When It Rains It Drains Brochure: (Click Here)
Construction Industry: (Click Here)